Sinharaja World Heritage Rainforest - Sri Lanka
Sinharaja Rainforest
is the last virgin Rainforest left in Sri Lanka and home to many rare endemic flora and fauna. It was recognized as an International Man and Biosphere Reserve in 1978 and subsequently upgraded to UNESCO World Heritage Rainforest in 1988. Although the protected core zone is just 11,427 hectares, it contains 19 waterfalls. Additionally, hundreds of natural water streams originate from Sinharaja Rainforest, ultimately feeding the larger rivers Kalu ganga and Gin ganga.
Sinharaja Rainforest is well known for its birds, especially the rare endemic birds of Sri Lanka such as the
Sri Lanka Blue Magpie
,
Red Faced Malkoha
and
Sri Lanka Hanging Parrot
who's only home is Sinharaja. In fact, of the 26 bird species endemic to Sri Lanka, more than 20 can be easily found in Sinharaja. Mammals of Sinharaja Rainforest include the endemic
Purple Faced Leaf Monkey
,
Torque Monkey
,
Fishing Cat
,
Rusty Spotted Cat
,
Barking Deer
,
Mouse Deer
,
Sambur
Giant Squirrel
and the occasional and elusive
Sri Lanka Leopard
.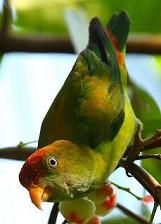 Sinharaja Rainforest is maintained by Forest Conservation Department under the Ministry of Environment in Sri Lanka and entry tickets / permits should be obtained prior to visiting. The main entry point is through Kudawa (coming on Kalawana-Rakwana road). It can also be accessed through Pitadeniya entrance in Deniyaya. Forest Conservation Department also has a small bungalow with a caretaker in Morning Side, East of Sinharaja.
For centuries, Sinharaja World Heritage Rainforest was protected by our ancestors, living sustainably from what the forest provided such as Kitul Palm used to make jaggery as well as many medicinal plants. However, with the growth of monoculture plantations such as Tea during and after the colonial period, Sinharaja Rainforest was gradually cut down. The destruction of Sinharaja Rainforest got a further boost when the government decided to cut down ancient trees for timber during the early 70's. Due to mounting pressure from Environmentalists, logging operations in Sinharaja was successfully halted in 1977. Today, the biggest threat to Sinharaja Rainforest comes in the form of illegal encroachment by tea plantations along its boundary. Immediate action is needed to install proper boundary markers with severe punishment to those who encroach on the forest. Recently, road construction through the buffer zones of Sinharaja World Heritage Rainforest and mini-hydro projects along Koskulana river and Gin Ganga which forms the border of Sinharaja Rainforest has been an issue. Due to the extremely sensitive environment and many endangered and endemic flora and fauna living in a very small land area, any human related disturbance can cause massive ecological destruction to this national treasure. It is therefore, the duty of all Sri Lankans to take every measure towards protecting Sinharaja World Heritage Rainforest for our future generations.
Rainforest Protectors of Sri Lanka
, a non-government volunteer organization dedicated to protecting the remaining Rainforests in Sri Lanka is urgently seeking to protect the forested land around Sinharaja Rainforest that are still in the hands of private individuals and listed for sale. These private lands still contain virgin rainforest millions of years old, but are being destroyed by new owners to grow tea and palm oil. Named "Sinharaja Buffer Zone Conservation Project", Rainforest Protectors of Sri Lanka is raising funds to purchase and protect these lands under a Trust to ensure the rainforest is permanently protected and seeks help from potential sponsors and individual donors.
Click here to learn more about Sinharaja Buffer Zone Conservation Project